Log in
What is Siyavula's practice service?
Our practice service is an online tool for high school learners to practise maths and science, with:
questions that are tailored according to learners' individual ability, becoming more difficult as they improve;
immediate feedback on the questions learners tackle;
step-by-step explanations of every exercise;
a dashboard for each learner, so that they can set their own goals and track their progress; and
a teacher dashboard, so that you can track the progress of individual learners and your whole class.
All you need to access Siyavula's practice service is a computer, tablet or phone with access to the internet.
Signing up to Siyavula as a teacher
If you would like to use the practice service with your class, you need to register your school with us first. Once your school is registered, we'll set up an account for you and your colleagues, and send you your login details. We'll then create your classes, and help you link your learners' accounts to yours so that you can track their progress.
If you already have an account set up on the site let us know which email address or phone number you used when you signed up and we can upgrade your account to a teacher one once your class is set up.
You can contact us on [email protected] for more information, or check our School Pricing page.
Using the teacher dashboard
While it's great for learners, the practice service is also a powerful diagnostic tool for teachers. On the teacher dashboard, you'll be able to see:
how many exercises each learner in a class has done;
how well your learners are mastering the concepts they're practising;
how quickly and effectively they're working; and
where your class is doing well, and what concepts they're struggling with.
Accessing your teacher dashboard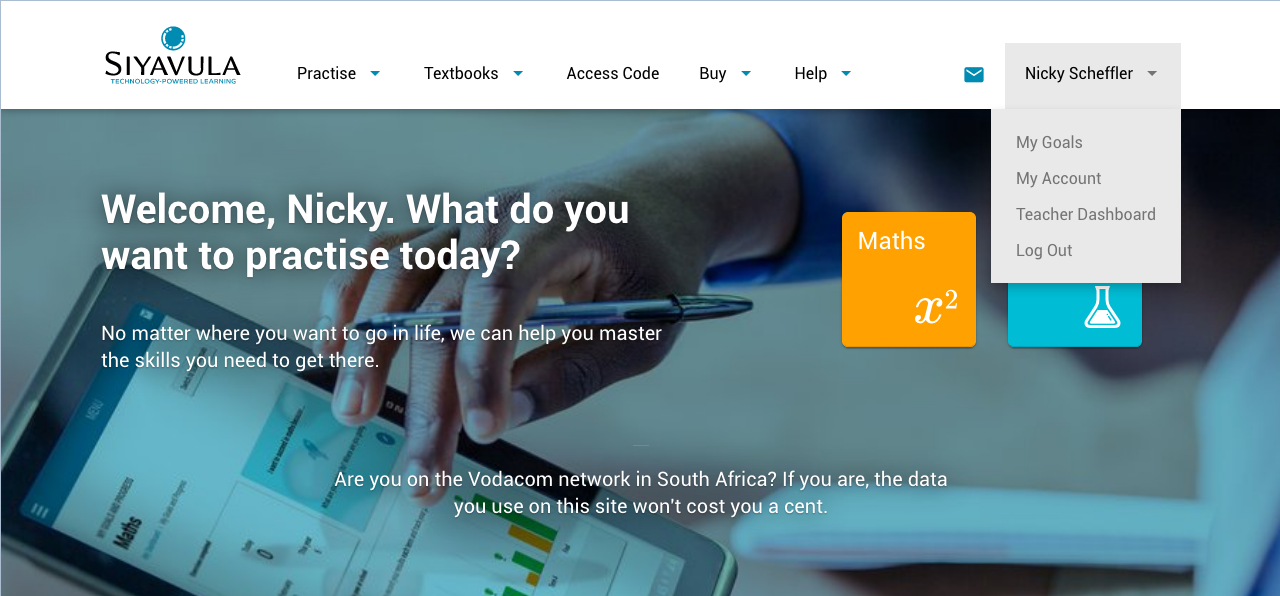 If you're using a desktop computer: Once you have logged in your name will appear on the right of the menu bar. You can find a link to your teacher dashboard in the drop-down menu when you hover over your name. On a tablet or phone: Once you have logged in, you can find a link to the teacher dashboard in the main menu, just tap on the blue bar.
Selecting the class you'd like to view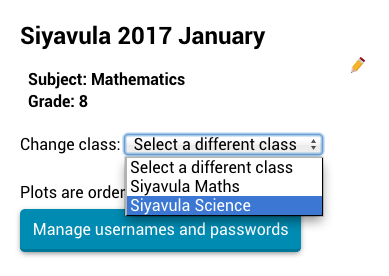 All the classes linked to your account can be seen in the drop-down menu on the left of your teacher dashboard. The name of the class and grade you are currently viewing will be shown just above the drop-down menu. Select the class you'd like to see by clicking on Select a different class.
Changing the name of your class
When we add your classes to our system we give them a name (usually a combination of your initials and the relevant grade). You can change each class's name to whatever you like.
To change your class's name, click on the pencil icon to the right of the class name and type in the new name. Click on the green tick when you are done to save your changes, or the red cross to cancel.
Managing your learners' usernames and passwords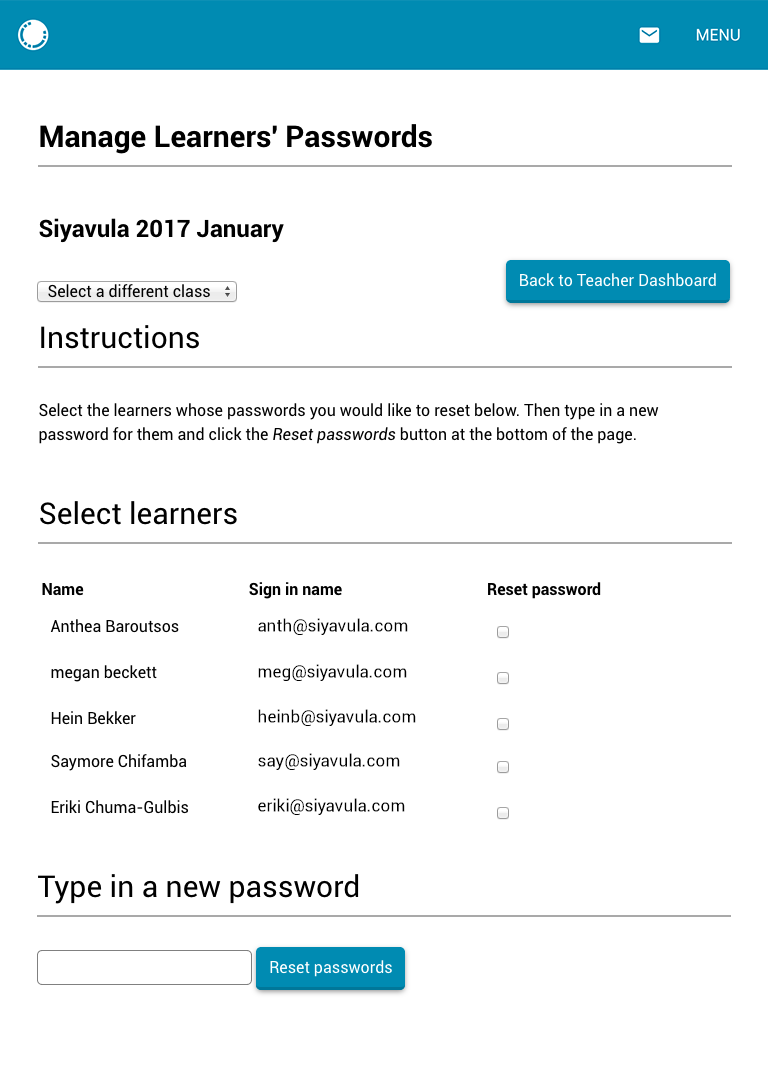 If any of your learners forget their login details, you can look up the username/email address/phone number they used when they signed up to remind them; and you can also assist them with resetting their passwords. How? From your teacher dashboard, click on Manage usernames and passwords to view a list of the class's log-in details. The usernames listed here are the only ones correctly linked up to your account. If a name does not appear, the learner has either not created an account at all, or is practising on an account that has not been linked to yours, in which case they will need to redeem an Access Code.
You will not be able to see your learners' passwords (we don't display them anywhere, or to anyone for privacy reasons), but you are able to help them reset a forgotten password as follows:
Tick the box next to the learner or learners whose passwords you will be resetting.
Pick a password on your learners' behalf and enter it in the field at the bottom of the page.
If you are certain you would like to proceed (this can't be undone), click the Reset passwords button.
You will be told when the reset is complete. This may take a little while.
Once you have reset a learner's password, their old one will no longer work. Please make sure the learner has their new password so they can log in.
Learners are also able to reset their passwords themselves by clicking on Help! I forgot my password below the log in form and following the instructions.
Filtering your class's practice data
The data shown automatically on your dashboard is filtered as follows:
By time: the system chooses a time period during which your class has been active (this may be the last week, the last month or the entire year depending on how busy your class has been recently)
By content: the system automatically selects only the sections that have been attempted by most of your class during that selected time period.
This is just the system's best guess at how to filter your class's data, but may not be showing you what you want to see. You can change the filters to view specific content and/or a different time period by clicking on the Change this button on the right.
To change the content and dates you'd like to see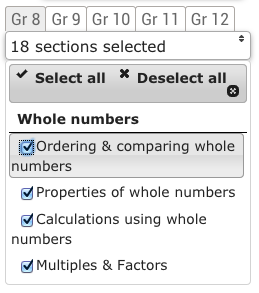 Click on the Change this button
To filter the content for which you would like to see your class's activity data:

Select the grade(s) they may have worked on, or you would particularly like to see:
Click on the arrows on the right-hand side to reveal a list of all the chapters and sections in that grade. You can either:

Select or deselect all the topics by clicking on the relevant button at the top of the list; OR
Click on a chapter title to select all its sections; OR
Scroll through the list and tick the box next to each section you'd like to view

Click the cross in the top right-hand corner of the list to close it once you have made your selections.

To filter the time period for which you would like to see your class's activity data:
Set a start and end date for the time period you'd like to view. You can either:

Type in a date; OR
Choose one from the calendar that pops up.

If you would like to make the time you choose even more specific (e.g the end of the lesson yesterday to the start of the lesson today), uncheck the Select whole days box, and select the time range you'd like to check.
This will bring up charts and information showing only the data you've filtered for.
You can view the information for each plot:
Alphabetically, or
By learner performance (strongest to weakest)
Choose how you'd like to view the data, by clicking on the drop-down menu labelled Plots are ordered, found just above the Manage usernames and passwords button.
Interpreting the data on your teacher dashboard
Exercises completed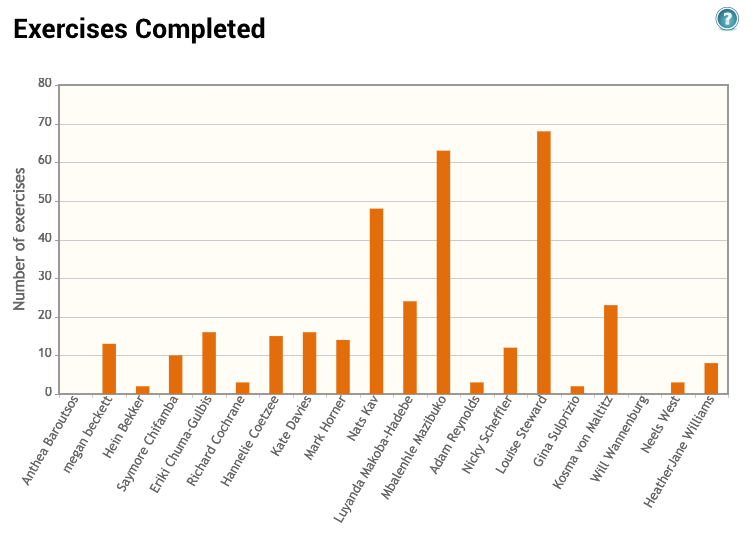 The first bar graph, labelled Exercises Completed, tells you how many exercises learners completed during the time period and for the content you've specified in your data filters. This will show you how hard they're working, and can be taken as a measure of effort.
Mastery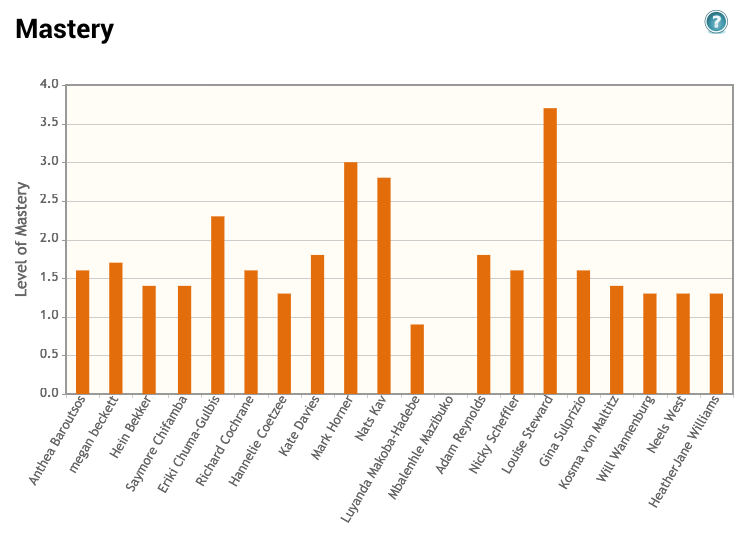 This chart shows each learner's level of mastery: the difficulty level they're currently working on. This reflects both how well a learner is doing and how difficult the exercises they've attempted were. For example, a learner with a mastery level of 3 stars has proven themselves capable of exercises at levels 1 and 2 and is now working predominantly on questions with a difficulty level of 3. As their mastery of those exercises improves they will reach questions with a difficulty level of 4. Compare this to the Exercises Completed chart to match effort with outcomes.
Level 1 contains some revision exercises as well as questions that test basic maths, science and comprehension skills. Levels 2, 3 and 4 contain progressively more difficult exercises.
Speed vs mastery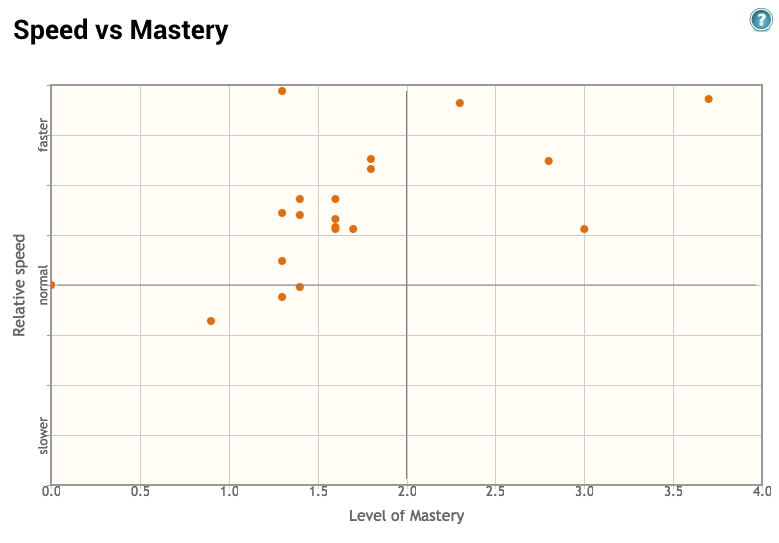 True mastery results when skills become more automatic and instinctive, you speed up and your working memory has more capacity for high order thinking skills. We want learners to not only be mastering the content, but also working fluently. Practice is what makes the difference!
This plot helps you diagnose how fluently your learners are working. Each learner's speed at answering the questions is calculated relative to the speed at which all other learners on the system answer the same questions, and plotted against how accurate they are.
Labelling the quadrants as we have done below might help you interpret and use the information: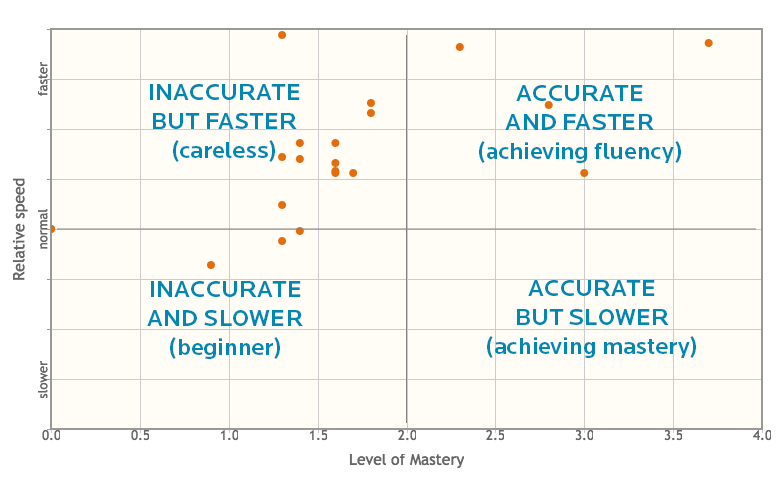 Class Summary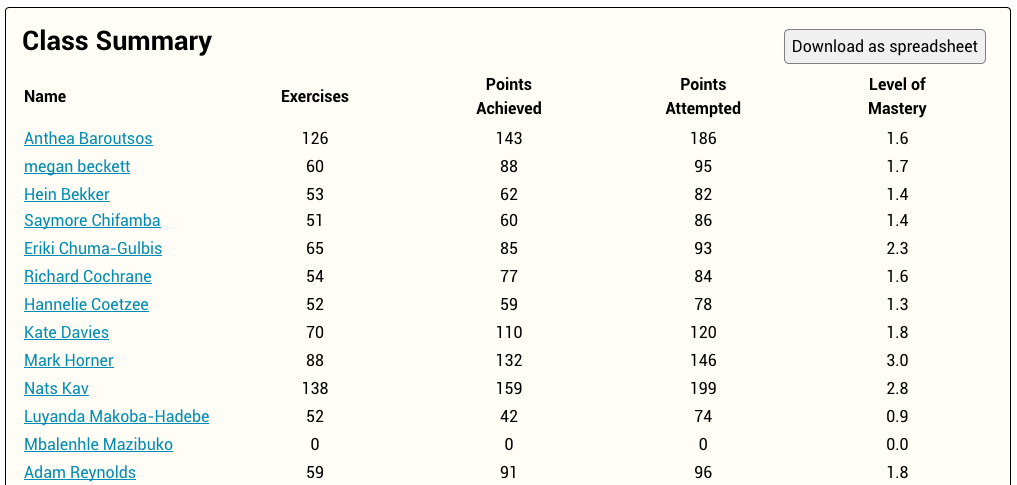 This allows you to see how your class is doing at a glance. It shows:
How many exercises each learner has attempted
How many points were attempted and achieved by each learner.
Each learner's level of mastery
This summary can be downloaded as a spreadsheet, and used to supplement your school reports or as a reference for parent-teacher meetings.
If you click on a name on the class summary, you can view more specific data about that learner, including a detailed breakdown of performance for the content attempted, in the Student details section.
List of exercises
Above your class summary is a link to a list of sample exercises for everything currently on our system. You can use this list to get an idea of the kinds of questions and level of difficulty available in a particular chapter or section, without having to practise them yourself. To see the list:
Click on the link to open the list in a new window or tab in your browser.
You can expand the list by clicking on each entry. Drill down through a grade, and its chapters and sections to display a list of sample exercises.
Exercise Summary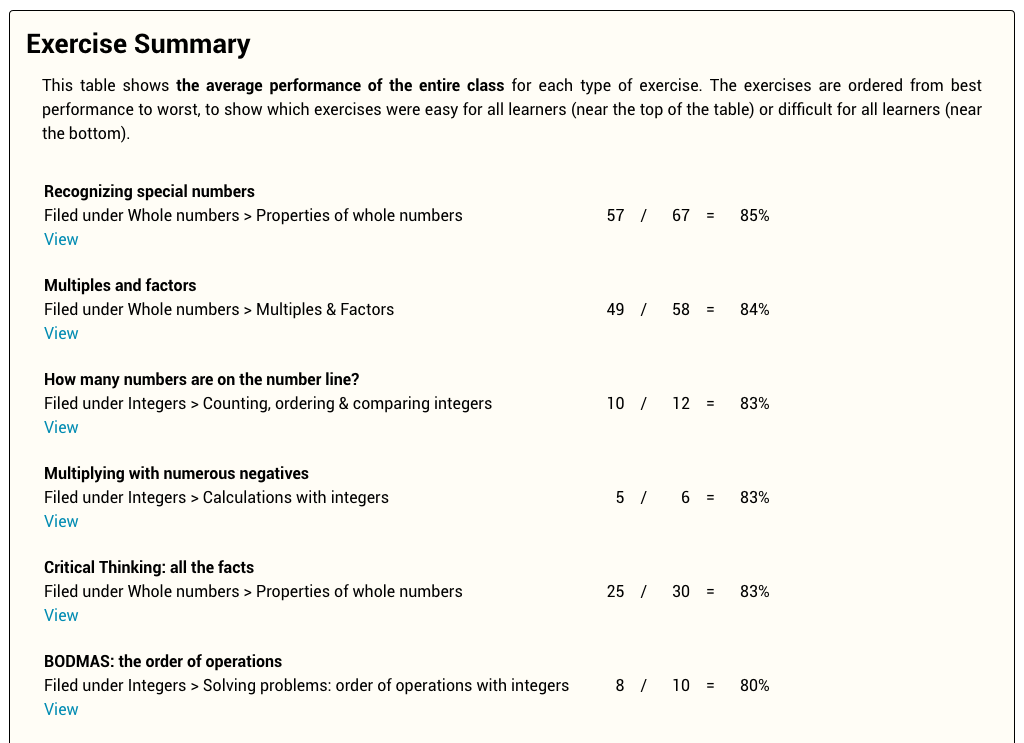 As a diagnostic tool for teaching, the Exercise Summary is arguably the most powerful resource on the Teacher's Dashboard. Here you can analyse the data for your class's performance by exercise type or topic, rather than by learner.
Each entry refers to an exercise type and shows your class's average performance for that kind of question. The list is ordered by performance from best to worst, so exercises that were easy for all learners will be near the top of the table and those that were difficult for all learners will appear near the bottom.
You can click View underneath each entry to generate an example of that exercise, see what your learners are struggling with and go through it with them in class.
Using the practice service with your class
Goal setting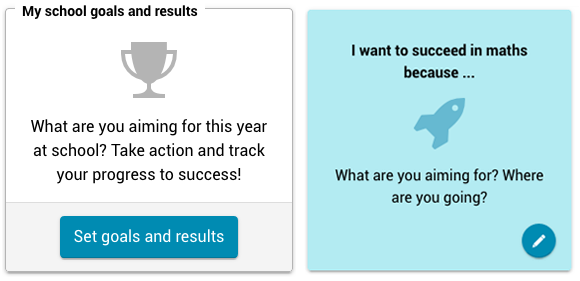 The aim of using the Siyavula practice service is for learners to master the concepts you're teaching them in class through regular and consistent practice.
We want to help learners connect the regular effort they put in, with long-term success. One of the best ways to encourage and motivate learners in their maths and science learning journey, is for them to set their own goals to pursue.
We have, and are constantly developing more, ways to help learners to reflect and think about their goals, their motivations for wanting to succeed and how they want to achieve this. We encourage you as a teacher to encourage your learners to interact with these features on the practice service to set their own goals and track their progress.
We recommend that you encourage your learners to set a clear goal to achieve a certain level of mastery. This is more effective for learning than setting a goal based on a number of exercises. Completing many exercises does not necessarily mean that the learner will master the concepts being taught. In general, we recommend that a mastery level of 3 to 3.5 stars is a good target to aim for, although stronger learners may want to aim higher.
How to bring the practice service into your teaching
There are many ways in which you can use the practice service to supplement, augment and improve your own teaching practice, depending on your preferences, your school and classroom context and your learners' needs and capabilities. From active learning during class on a device, to revision and exam preparation, to parent-teacher meetings and one-on-one support and insight into each of your learners!
Here is an outline of the 6 ways that we have put together to get you started in using the practice service in and out of the classroom:
Regular, goal directed practice

What is the main focus?
Individual practice to promote the greatest learning gains whilst aiming for the goal the teacher has set.

When and where would the service be used?
Out of class or at home

What part of the learning process does it facilitate?
Homework practice

Does each learner need access to a device?
Yes

Active learning during class

What is the main focus?
Learning by doing at the appropriate level of difficulty for deeper engagement in class.

When and where would the service be used?
In class

What part of the learning process does it facilitate?
Immediate application of skills and concepts

Does each learner need access to a device?
Yes

Continued revision for accumulated benefits

What is the main focus?
Adaptive revision that is of a sufficient quantity for the benefits of practice to accumulate with time.

When and where would the service be used?
Out of class or at home

What part of the learning process does it facilitate?
Appropriately spaced revision for long-term retention

Does each learner need access to a device?
Yes

Revision session during class

What is the main focus?
Effective use of valuable class time to address common problem areas

When and where would the service be used?
In class

What part of the learning process does it facilitate?
Focused consolidation and revision

Does each learner need access to a device?
No

Collaborative and peer-to-peer learning

What is the main focus?
Implementing social learning strategies with the use of technology.

When and where would the service be used?
In and out of class

What part of the learning process does it facilitate?
Group learning and problem solving

Does each learner need access to a device?
No

Monitoring and reporting

What is the main focus?
Using the data analysis to make insightful decisions and adjustments to teaching practice and adding depth to reporting.

When and where would the service be used?
By teachers during class, in their own time, and during meetings.

What part of the learning process does it facilitate?
Reflection and feedback

Does each learner need access to a device?
N/A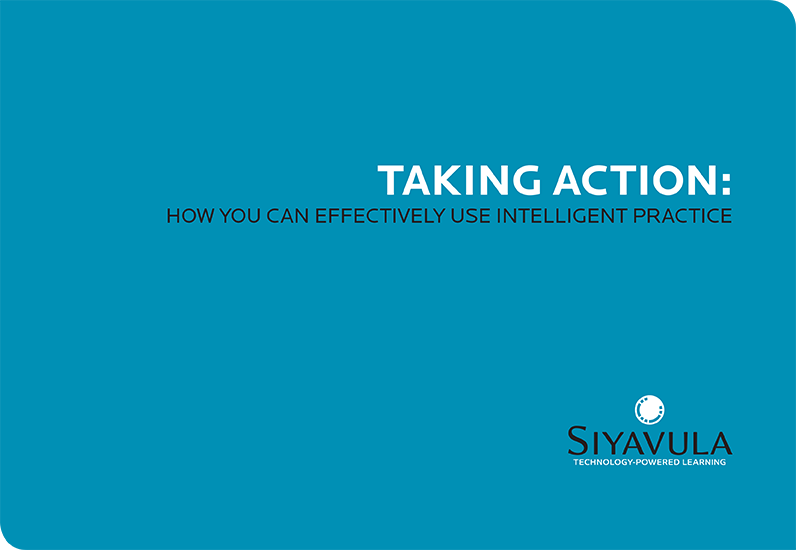 How to convert your learner's practice data into a mark
Teachers often ask us for guidance on how to translate the work their class does on practice into a mark they can build into their term assessment. The ethos of our practice service is to recognise both effort and mastery, and we recommend that both are considered when assigning a mark.
The table below offers an example of how one might weight learner effort and mastery to arrive at a mark. You can assign marks on a per chapter or section basis, or for a larger set of content, like a term's worth of work. Using this method also easily allows for you to weight either effort or mastery depending on your preference.
| Mastery level achieved | Mastery score |
| --- | --- |
| >1 | 20% |
| >2 | 50% |
| >3 | 80% |
| >3.6 | 100% |
| Exercises attempted | Effort score |
| --- | --- |
| 30-50 | 50% |
| 50-90 | 60% |
| 90-125 | 80% |
| 125+ | 100% |
Final score = 50% Mastery score + 50% Effort score